About Commercial Moves
Commercial moves like reorganization are not to be taken lightly.  Indeed, our team will make a point of supporting you throughout your commercial moving project.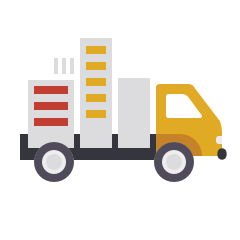 Moving Your Entire Office
Now more than ever, we all know how extremely difficult a production shutdown can be. This is why it becomes imperative to minimize the overall impact of a move on your business.
Preparing for a Commercial Move
Our professionals will guide you through all the material needed for a successful moving.  Also, if you have any special request or packaging needs, we have access to a panoply of materials.
Preparation and ressources
What We Offer
No matter what type of enterprise you manage, we can manage your move !

Trucks
All of our truck are equipped with all the necessary gear to properly move and wrap all of your goods.

Packaging Electronics
Electronics and Servers are the core of every businesses now.  That's why we have special bins for all of your businesses hearts !

Licensed & INsured
Any mover who you will hired, should have the proper carrier insurances and permits.  Look and ask for them !
How It Works
Call us to get a free quotes !
We will guide you through all the steps and requirements 
Get an Estimate
Based on the information's you will provide like the date and the services needed, we will make an estimate.
Plan Your Move
One of our representative will do a quick visit to plan and make sure all of the details are taken into account. 
Schedule Your Move
We will give you a call to confirm the move on the day before just to make sure everything is still on plan !
Satisfaction Guaranteed!
You can count on our experienced supervisors and project managers who have your satisfaction at heart! Their missions, you ensure an easy and fast transition to your new workplace.

The team you've sent me was the fastest and most efficient I had the chance to deal with !  Plus, the guys were really nice.

Thanks to the entire Pro Action's team for our move late last week. Despite the many challenges, the team adjusted and made our move a success !

I highly recommend the Pro Action team for your business move. You are in good hands!
Get in Touch
(450) 266-1239
info@proactiontransport.ca
Open Hours
8am – 4h30pm Weekdays
Our Office
2009 Av. Francis-Hughes
Laval, Qc H7S 2G2